Source: Chicago Tribune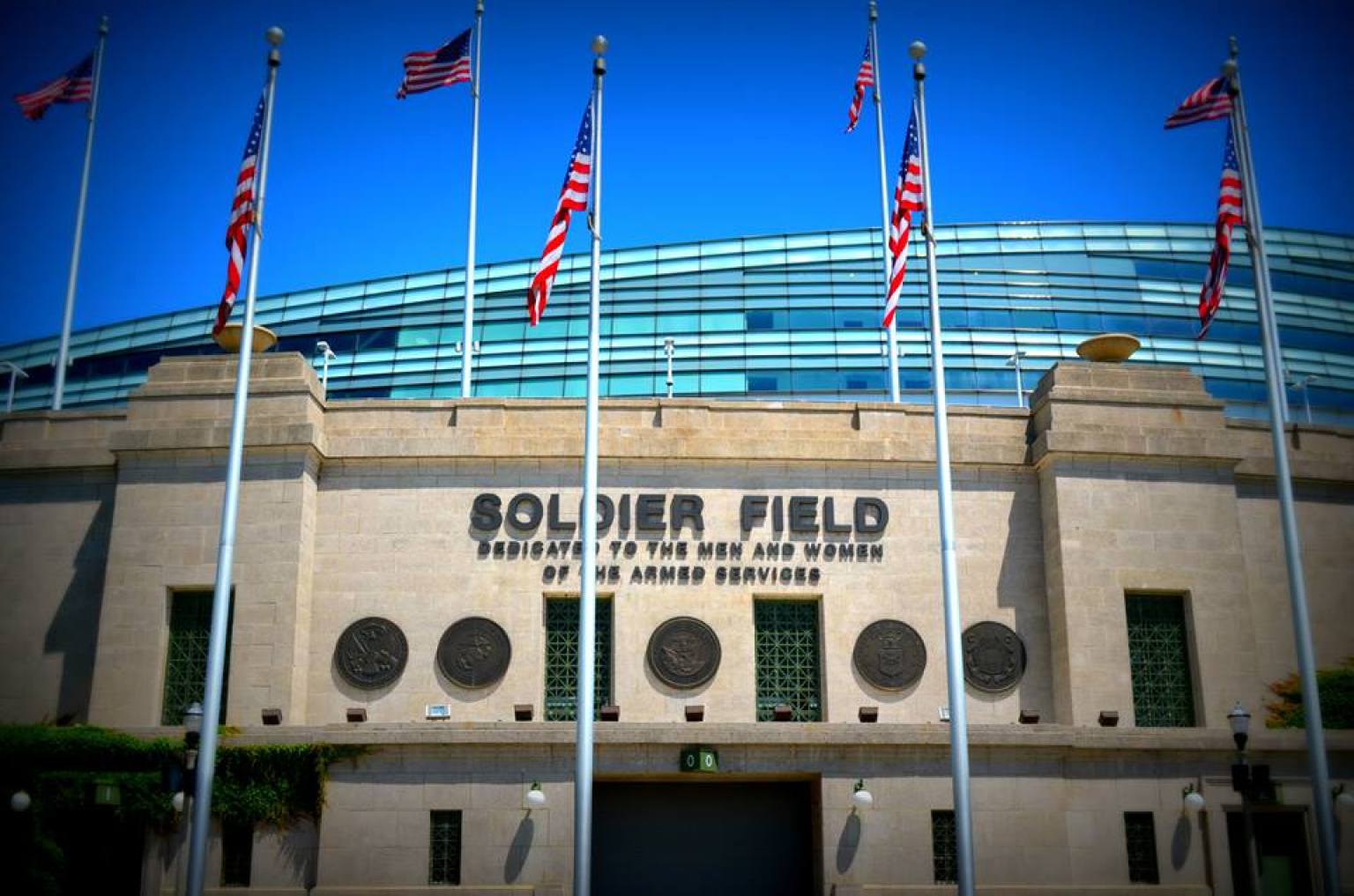 Source: Huffington Post
One of the the grandest memorials of World War One in the Chicago area is Soldier Field. It is a stadium, located on the shore of Lake Michigan, originally seating 74,280, and was eventually expanded to seat 100,000 people. The structure was designed in classic Greek and Roman style and opened on October 9, 1924, as Municipal Grant Park Stadium. In 2004 Soldier Field was completely rebuilt and renovated, changing it's character, and retaining only the original facade. The renovation included several memorials to veterans and soldiers who lost their lives in wars, expanding Soldier Field as tribute to the armed forces who served in war and peace.
In 1920, Chicago was a growing city, second in population to New York City, a transportation and financial center, but without a large gathering place for its residents. In Daniel Burnham's Plan for Chicago of 1909, a municipal stadium was planned for the area south of downtown, approximately where Soldier Field was eventually built. Burnham's plan was never implemented, but the need for a stadium was still there. In 1920, a competition was held to design a municipal stadium to be built on the south end of Grant Park, behind the Field Museum. The winner of the competition, Chicago architects, Holabird and Roche, produced the design that was built in 1924. Soldier Field was listed on the National List of Historic Places in 1987.
Winning plan for the Municipal Stadium, a combination of the
Washington Monument and the Lincoln Memorial. Source: neweastside.org.
Grant Park Municipal Stadium opened on October 9, 1924, as a memorial to soldiers who had died in wars. The name was changed to Soldier Field in 1925, as a result of a campaign by the Goldstar Mothers, a group of women who had lost their sons in World War One. It was renamed and rededicated on Armistice Day, November 11, 1925.
Soldier Field was opened in October 1924.
In the early years, Soldier Field saw a variety of uses. It hosted The Roman Catholic Eucharistic Conference in 1926, which drew over 1 million people; the Tunney-Dempsey Heavy Weight Fight in 1927; Charles Lindbergh in 1929, and the opening of the World's Fair in 1933. It also was the site of talent shows, rodeos, ski jumping contests and auto racing. Fourth of July fireworks, All City Music Festivals, and Chicago Public League High School championship games and all star games also took place there. Match lighting ceremonies started the Music Festivals in Soldier Field.
Many famous people spoke at Soldier Field including Presidents Franklin Roosevelt and Harry Truman, as well as General Douglas MacArthur. Dr Martin Luther King Jr. spoke there before 70,000 people in 1964.
Dr Martin Luther King Jr. speaks at Soldier Field in 1964. Source: Chicago Sun-Times
Many sporting events were held there: Notre Dame Football, The first Special Olympics in 1968, The 1994 World Cup Soccer quarter finals, Women's World Cup Soccer in 1999, The Chicago Black Hawks Winter Classic, and a New Zealand All Blacks Rugby game in 2014. In 1971, Soldier Field was renovated and remodeled as the new home of the Chicago Bears Football Club, and remains their home today.
Soldier Field in the 1950's, before remodeling and renovations.
Soldier Field was completely renovated in 2004 by the Chicago Park District for the Chicago Bears. The interior was demolished and replaced by a new structure which included a new playing field, seats, luxury boxes, and scoreboards. This rebuilding was controversial, and because of it, the stadium lost its landmark listing. One part of the plan proposed that the naming rights to the stadium be sold, which would result in dropping the original name. Veteran's groups protested this idea, and it was decided to keep the name of Soldier Field. In addition, funds were set aside to commission several works of art that would honor veterans. A sculpture of a World War One dough boy, by E.M. Viquesney, damaged by graffiti, was restored and installed at the South entrance of Soldier Field. This sculpture honors the original name and intent of the stadium, which was to honor those American soldiers who lost their lives in World War One. Twenty eight benches were installed, at at gates 1-28, each with a patriotic quotation. Several new works of art were installed outside Soldier Field to honor veterans and members of the armed forces, making the stadium a tribute to United States servicemen, past and present.
Renovated Soldier Field, with the remaining original colonnade. Source: Wikipedia.
"Spirit of the American Doughboy", by E.M. Viquesney. Located near the South entrance to Soldier Field.
"Tribute to Freedom" 2003. Bronze bas relief by Anna Koh Varilla and Jeffry Varilla, located near the North entrance to Soldier Field.






"Water Wall," 2003, also by Anna Koh Varilla and Jeffry Varilla. The Water Wall includes nine bronze medallions, each representing one of the branches or organizations of the United States Armed Forces.