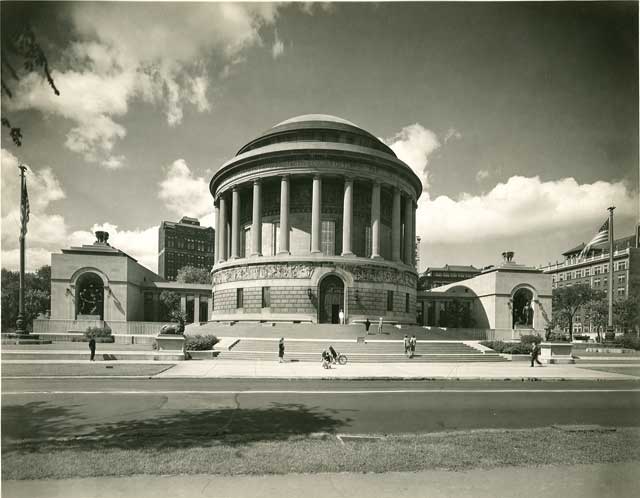 The Elks Memorial in 1926, the year of its dedication.
One of the most magnificent war memorials in the United States is the Elks National Memorial in Chicago, Illinois. The domed building was built by the Benevolent and Protective Order of Elks, an organization committed to providing charitable services and building stronger communities. It is located across the street from Lincoln Park and a short distance from Lake Michigan.
The building, dedicated in 1926 is a "Tribute to the bravery, loyalty and dedication of the thousands of Elks who have fought and died for our country."
After World War One, there was a strong desire on the part of Elks members to build a memorial to members who died in the Great War. In 1920, the Grand Lodge of the Elks med to plan and design the monument. They decided to hold a competition to select an architect to design the monument. Edgerton Swarthout, a New York architect was the winner. Construction was begun in 1923 and the building War was dedicated on July 14, 1926 to the "memory of the more than 1,000 Elks who lost their lives in World War One."
The beaux arts style domed building was built from marble, granite and limestone, with sculptures and paintings decorating the interior. The art works were inspired by the Four Cardinal Virtues of the Elks, charity, justice, brotherly love and fidelity. The scupltures are by Adolph Weinman, James Earle Fraser and Laura Gardin Fraser. Paintings and murals are by Edwin Blashfield and Eugene Savage.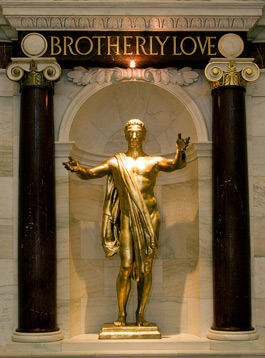 Brotherly Love and Fidelity are two of the Four Cardinal Virtues of the Elks.
Inside the Memorial Rotunda of the Elks Memorial. Sculptures representing the Four Cardinal Virtues of the Elks are on the first level, 12 allegorical murals illustrating The Beatitudes by Edward Savage are on the second level.
"They Shall Inherit the Earth"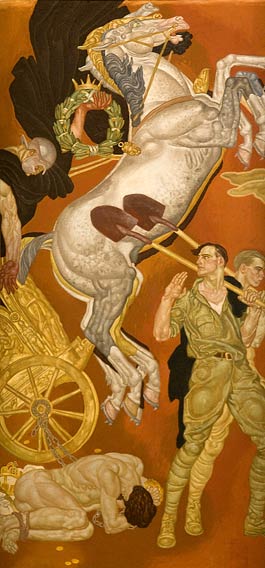 "Theirs is the Kingdom of Heaven"
"They Shall Obtain Mercy"
"They Shall See God"
The Grand Reception Room
"The Armistice", painting in the Grand Reception Room
'Paths of Peace" in the Grand Reception Room



The building was rededicated in 1946 after World War 2 , and 1976 in memory of Korean War and Viet Nam War members. It is also the national headquarter of the Elks.